பொதுவாகவே எல்லா பசங்களுக்கும் அவங்க காதலியுடன் ஒரு நீண்ட தொலைதூர பயணம் செய்ய விருப்பம் இருக்கும், அதுவும் காதலியுடன் bike'ல தொலைதூர பயணம் என்றால் அதன் இன்பத்தை சொல்லவா வேண்டும்…….
Nanum apdi oru bike ride ponnen en lover kuda. Soldren kelunga….
As usual oru nal daily pesura mathiri oru 1 hour phone la pesitu irunthom. Thidirnu, Sunday freeya da? nu keta. Ithu enna de puthusa freeya la kekura nu sonnen!
Enaku bike ride poganum nu asaya iruku da nu sonna. கண்மணி enaku propose pannumpothu iruntha athe feel marubadiyum vanthathu! Entha paiyanuku tha varathu?
En kitta irunthathu Honda Hornet 160R
️️. Athula epudi long ride nu Yosichen…..
Long ride nu mattum tha sonna, but enga, epudi ethume கண்மணி sollala, it's your choice nu sollita. At the same time, chance miss panna kudathunum ninaichen.
Enaku surprise panna romba pudikum.️ Sari senjidivom nu mudivu panniten. 😎
Sunday morning 6.30am ku கண்மணி ya ready ya iruka sonnen. Kanmanium enga porom nu oru vartha kuda ketkala. I love her's trust.
Saturday bike service la pannitu….. Petrol lam potu vechiten… Helmet.. Safety Gears for both us ready panniten….
Sunday morning 5.30 am ku alarm vechi…. 5 am ku elunthu ready agiten….. Thukkam vantha thane
Sharp ha 6.15 am ku…. கண்மணியின் veetuke poiten…. Epudiyo aunty ta sollitu exact ha 6.30 ku plan padi vantha
Oru side Suriyan
uthayama agitu irunthathu…… Oru side ava…. T-shirt and Jeens la, Konjam makeup oda…apdiye oru தேவதை mathiri vantha
……
Enaikum pola anaikum en Kannuku puthusa ve therinja…. அவ்வளவு அழகு! (என் காதலி ஆச்சே இப்படி சொல்லித்தானே ஆகணும்)
என்னை பார்த்து கண்ணாலேயே ready யானு கேட்டா? நானும் எப்போவோ ரெடி கண்மணி என்று கண்ணடித்து சொன்னேன். Safety gears & helmet la கண்மணி kum pottu vitten….
Apdiye Nethu rathri thedi thedi eduthu vecha bike ride Playlist pottu… Enna pandrathu impress panna evolo home work panna vendi iruku
Airpod la oru side கண்மணி kum – onnu enakum vechitu bike start pannen…… Apo mela kai potta parunga…. Vera level feeling…
Suthuthey….. Suthuthey… Bhoomi nu song armabichathu……
ECR la irunthu konjam city outer vanthathu…. No traffic…. No horn sounds…. Only us and music…… Bike konja konjama….. Speed rise agurathum en heart beat rise agurathum onna irunthathu
Sharp ha oru two hours non-stop ha bike ride ponnom….. Athu vara enga porom nu oru vartha kuda kekathava….. Pondicherry welcomes you nu board parthathum…. Side mirror la parthu Enga porom nu kannalaye ketta… Na just sirichen….
Aporom thidirnu…… Home work panni vechi iruntha route ha Maranthuten….. Thidirnu oru yosanai vanthathu….. கண்மணி munnadi route map poda kudathunu…. Light ha pacikuthu la nu Keten….. Illaye nu nakkala sonna… But enakum and bike rest venum de nu sonnen…
Aporom oru restaurant la bike stop pannitu… Sapda ponom…..
Ni ethu nalum order pannu na sapduven nu sollitu rest room ponen…… Takkunu mobile eduthu map ha podu…. Destination innum 20 km nu potu irunthathu… Apdiye mind la map ha ethitien….. Casual ha veliya vanthen…. Mobile noditu iruntha…..
Ennadi nu Keten… Just summa whatsapp status potu irunthen nu sonna
Correct ha enaku pudicha mathiriye puri… Vada order panni iruntha….. Lover la…. Sharp ha.. Oru 30 mins la saptu… 9 ku bike start pannen…
Adutha 30 mins…. Santhu santha bike otitu… Destination vanthom…. Entha area da ithu.. Forest mathiri iruku nu sonna…. Kitta thatta forest hey thandi nu sonnen… Enaku munnadiye oru 200 bikes park panni irunthathu….. Aporom token poten…
Destination ku…. 1km walking la tha poganum…. Light Trekking poga porom nu oru feeling irunthathu….. Ulla nadaka arambichom…..takkunu… கண்மணியின் kerchief eduthu ava Kanna kattiten…. Ennada nu ketta… Na kututi poren kai pudichiko nu sonen… Sirichite ok sollitu kai pudichi nadaka arambichom… Athu innum Vera level feelinga irunthathu….
Oru 15 mins porumaya nadanthu ponom… Valila ellorum engala parthutu oru mathiri sirichinga….especially couples ha vantha ponnunga… Destination arrived de sonen…. Aporom enna kerchief remove pannu da nu sonna…. Oru nimisham wait pannu de sollitu….
Anga nariya per irunthanga…. Tourist destination ache…. Ellor kittayum konja request panni…. en கண்மணி ku surprise panna Chennai la irunthu vanthu iruken nu sonnen, lovely people's nalla co-operate pannanga…
Aporom avala correct ha perfect view theriyura edama parthu Nikka vechen… Destination la iruntha oru stranger friend kitta mobile koduthu moments ha record panna sonnen…. He obliged.
Kerchief remove pannen……. Everyone surrounded there clapped for us…
(Evolo per ta request pannen nu enaku mattum tha theriyum
)
கண்மணியின் ethiril oru periya vatta vadivililana structural morvel irunthathu….. Acharyama partha… Ithu enna…. Entha oor nu keta…
This is Auroville கண்மணி nu sonnen…
கண்மணியின் kannula oru Sema feeling irunthathu…. Ellathayum camera man perfect ha capture pannitar….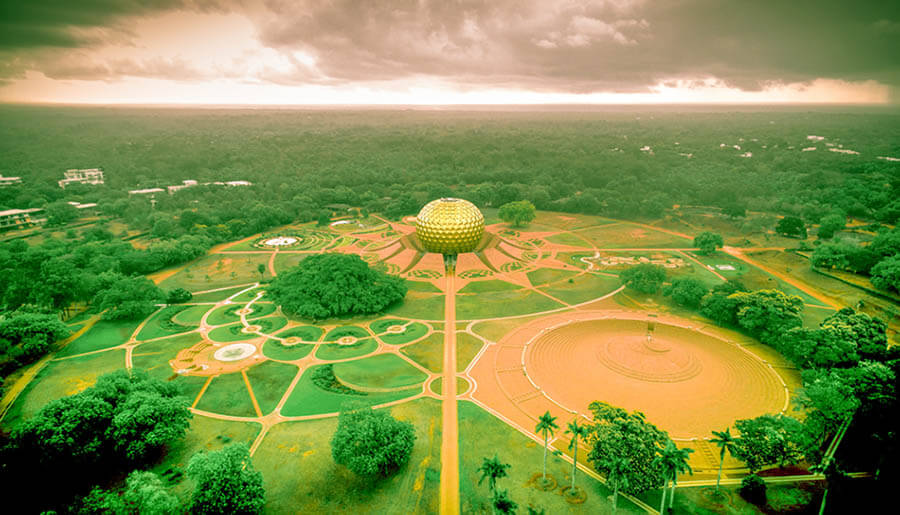 Aporom apdiye suthitu… Auroville oda history… Geography la sollite…. Exhibition la poitu vanthom….
Return nadakum pothu… Enna parthu Na onnu soldren ipove seiriya da nu ketta…. Entha paiyanum namma girl friend ipadi keta yosikama seiren de nu soldra mathiriye nanum solliten…..
கண்மணி keta parunga…. Shock agiten…..
It's actually a mixed feeling nu tha sollanum…. சந்தோசம் oru pakkam…. கஷ்டம் maru pakkam…..
Bike parking vara enna thukitu po da…. Nadaka mudiyala nu sonna….
En கண்மணி 62kg… நானோ 65kg… 1km thooram….. Mudiyathu nu solla mudiyathu…. Mudiyum nu solla mudiyathu…. Evolo tourist irukanga…. Epudi nu Yosichen… But time nariya illa…
Ambala manam Vera iruke…
Takkunu thukkiten…. Arvathula….. கையில் மிதக்கும் கனவா நீ
nu mind voice la பாட்டு ஒளிச்சிட்டு இருந்தது…..
Epudiyo oru 5 mins nadanthen….. Kal nenja kari….. Pothum nu soldra la paru nu ninachen….
Ketruchi pola… Takkunu…. Kannathula onnu kudutha parunga….. Unexpected
Semaya irunthathu…. Boost… Glucose lam Vida oru strength vanthathu….. Apdiye bike parking vara thukkidalam nu thonichi
Everyone's eyes was on us.
கண்மணி pothum da nu sonna….. Paravala de nu sonnen… But.. Enaku vetkama iruku da pothum nu sonna….. Epadiyo namma
getha maintain pannitom nu oru feel…..
Bike… Parking vanthathu…. Bike eduthutu… Lunch ku oru restaurant ku ponom…
How do you feel now my dear nu Keten!?
Semaya irunthathu da..
Thanks for making this as one of my most memorable day in our life nu sonna…
அத கேட்கும் போதே கொஞ்சம் பெருமையாகவும்,
அதே சமயம் சந்தோஷமாகவும் இருந்தது.
As usual enaku pudicha mathiriye fried rice
order panna…Saptom….
Sari…. Chennai ku kelambuvom nu eluthom….
கண்மணி enna parthu…. You did your best part for the day mani and it's my turn da nu bike key vangita……
Enna de nu Keten?
Unaku mattum tha surprise panna theriyuma nu Keta?
அவளும் நானும் இரவும் பயணமும்
️ Part 2
la meet pannuvom
% Love Story. . .
Read more – என் முதல் காதலும் காதலியும் நீ இல்லை, ஆனால்!